Join Operations At UWM

The Opportunity You've Been Dreaming Of
We've been waiting for you. The multi-talented multi-tasker who is ready to roll up their sleeves and make each new day better than the last.
Here at UWM, the #1 wholesale mortgage lender in the nation, every day is a new opportunity for you to change lives across the country as part of our Operations team. Whether you're new to the workforce or you've been working for years and are ready for something new, this is an opportunity to build a lucrative, long-term career faster than you ever imagined.
What Is Operations
At UWM?
A lot happens behind the scenes when someone applies for a home loan. The Operations team consists of three smaller individual teams that work together seamlessly to see the loan process through from start to finish.
"We have one of the best training teams in the world. The second you come into the building you go through an extensive training period. We give you all the tools and resources out there that you would need to thrive in this environment. We have a ton of opportunities to cross-train and shadow. We promote almost exclusively internally and we want people to continue to move. It shows that people really are our greatest asset." – Nick Pumfrey, AVP Lending Support Leader
Bring Your Best

We'll Teach You The Rest
We know that hard work, balancing a can-do attitude with quick thinking and working well with others are all natural talents and skills strengthened through real-life experience. That's why we don't require mortgage experience to start and grow in Operations. Even if your background doesn't seem connected to this industry, our team thrives on the different abilities, backgrounds and individuality of our team members.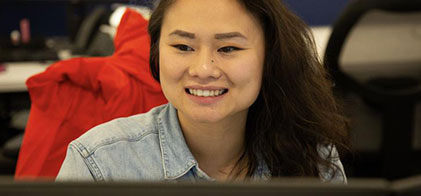 When you join our team, you'll have access to paid training (meaning you don't have to pay a thing) and ongoing education to help you keep growing in your career in Operations. Our award-winning Training team will provide you with amazing training starting on Day One.
Resilient, Resourceful And
Ready To Work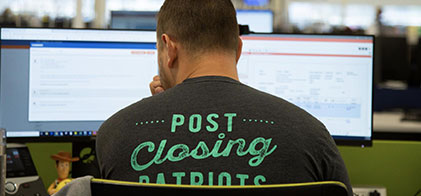 We work hard and fast, and are the most supportive team you'll ever be a part of, celebrating team wins and personal achievements loudly and often. We have a "Day One" mentality, which means every day is a new start and new opportunity for us to reach our goals. Since we start every day like it's a fresh beginning, no two days are the same.
Ready to power our company and make the dream of homeownership a reality for people across the nation? Find your fit here at UWM.
What Our
People

Are Saying

Linda Curtis, Agency Resolutions Coordinator
"There's nothing more rewarding than being part of a company that aims high and gets there. Every single person on every single team contributes and can say that they were a part of something BIG. Doesn't get better than that!"

John Sofran, Invoice Specialist
"Since I started with UWM, I have had multiple positions in the Operations department. I love it because it gives me the opportunity to enjoy work-life balance. There has been nothing but supportive leadership and team members in Operations for the three years I have been with UWM. They really care for me personally!"